The Company
Do you know Ricola, Fisherman's Friend, Mentos and Chupa Chups?
We are the people behind these and other top brands in the confectionery industry. It is our mission to bring together and market strong, innovative brands under one roof.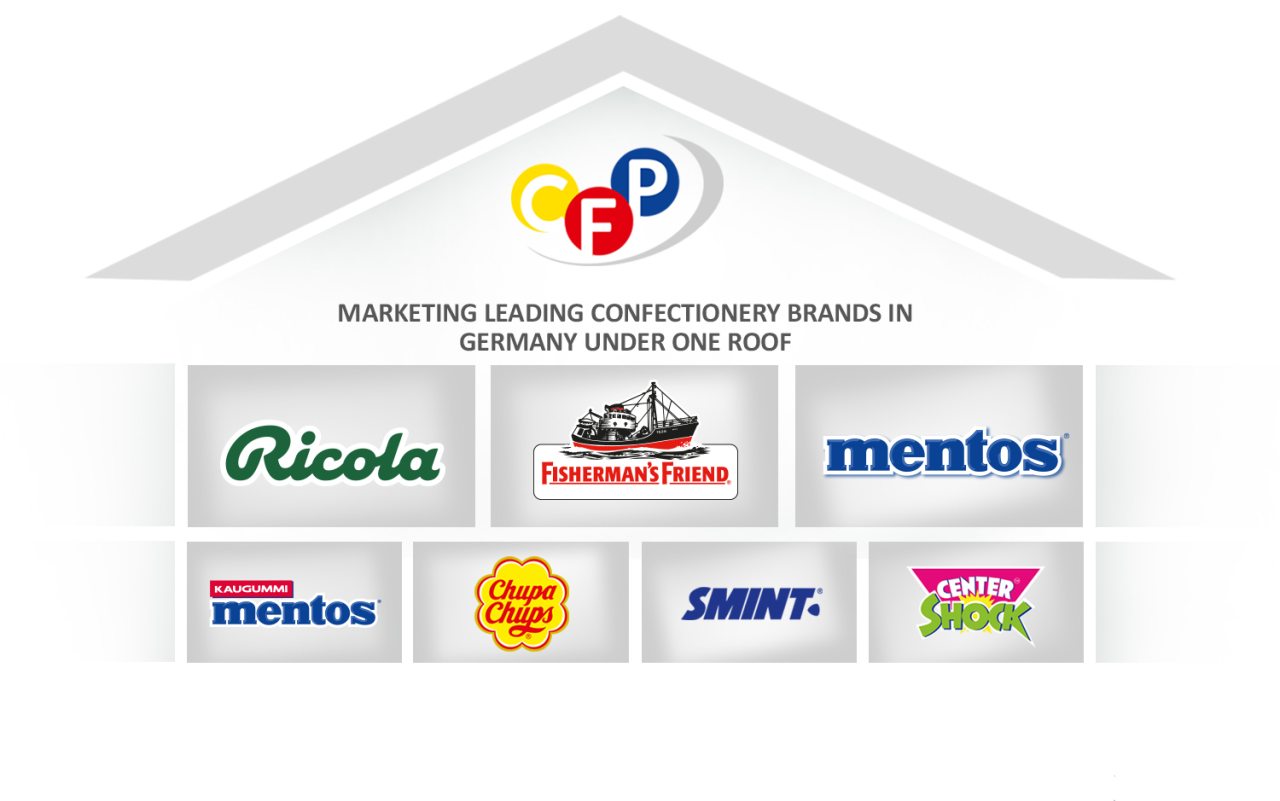 About Us
We are a strong partner in the confectionery sales industry, bringing people and brands together. Our work is especially focused on entrepreneurship, dynamism and strong relationships.
We represent excellent advice, outstanding brand communications, wide-reaching distribution and sustainable strategies for the best possible value creation.
Shareholders
The CFP joint venture was established in 2005, comprising Chupa Chups, Lofthouse and Perfetti Van Melle. Chupa Chups was taken over by Perfetti van Melle the following year. In 2019 Ricola joined CFP, which created the current structure of CFP consisting of three strong shareholders. Both Ricola, Perfetti van Melle and Lofthouse are owner-managed companies that have enjoyed global success for years.

Ricola is one of the most modern and innovative candy manufacturers in the world. The company exports herbal specialties to more than 50 countries and is known for Swiss quality. Founded in 1930, with headquarters in Laufen near Basel and subsidiaries in Europe, Asia and the United States, Ricola now produces around 60 varieties of herbal sweets and specialty teas.
Perfetti van Melle is the maker of brands such as Mentos, Chupa Chups and Smint. The company is one of the world's largest confectionery manufacturers and the third largest international chewing gum manufacturer. Their headquarters are in Amsterdam in the Netherlands.
Lofthouse has been the sole trademark owner and producer of the famous Fisherman's Friend lozenges for more than 150 years. The Lofthouse family company, from Fleetwood in England, makes around six billion lozenges for more than 120 countries each year.
History
2020

Headquaters relocation from Bonn to the media port in Düsseldorf

Ricola joins CFP Brands sales joint venture as an equal partner

2019

2015

CFP takes over the distribution of PvM brand Center Shock

2014

CFP starts distributing Spanish brand Snatts in Germany

2010

CFP takes over the distribution of French brand N.A! (Nature Addicts)

2007

CFP introduces Mentos chewing gum in Germany

2006

Perfetti Van Melle (PvM) acquires Chupa Chups S.A.

2005

CFP Brands Süßwarenhandels GmbH & Co. KG founded as a joint venture of Chupa Chups, Lofthouse Fleetwood and Perfetti Van Melle

2001

Italian confectionery company Perfetti takes over 100% of Van Melle

2000

Chupa Chups (Chupa Chups, Smint) and Van Melle (Mentos) joint venture as Chupa Chups Van Melle Süßwarenhandels GmbH & Co KG

1981

German Chupa Chups sales company founded

1977

Lofthouse Fleetwood starts selling Fisherman's Friend in Germany

1954

German Mentos sales company founded